You have reached this interesting post as you might be among those who have asked the following questions: are Moroccan sardines safe to eat? What are Moroccan sardines? Why Are Sardines From Morocco? What Are The Best Canned Sardines? Are Moroccan sardines sustainable? if so, you have come to the right place.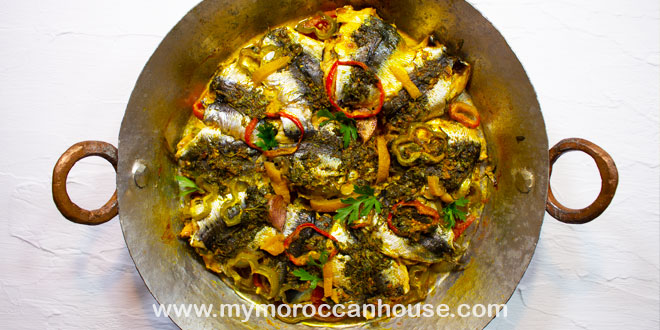 Seafood is abundant in Morocco. The lengthy seacoasts of about 3.500 km offer sardines, sea bream, turbot, sole, conger eel, mackerel, swordfish, tuna, crab, shrimp, lobster, oysters, and many other kinds of fish.
Here in Morocco, we usually marinate fish in chermoula; it is a lively marinade of fresh parsley and cilantro, garlic, cumin, sweet paprika, lemon juice, and olive oil. Later, we cook fish in a tagine or simply fry them, or bake them with sliced tomatoes and sweet peppers, fleshy violet-colored olives, and preserved lemons.
Grilled sardines are a coastal street food favorite. Generously sprinkled with sea salt. You can eat these grilled sardines in Essaouira, El Jadida, or any coastal city in Morocco. the sardines are grilled for a couple of minutes on each side until the skin blackens and buckles, The flavors are at their rich finest, the flesh sparkling and salty and shaded with smoky oils.
Are Moroccan Sardines Safe to Eat?
On a coastline of about 3,500 km and on two seafronts which are the Mediterranean and the Atlantic ocean, the Moroccan coastline is one of the great riches of the country.
Morocco is one of the main exporters of sardines in the world. In Morocco, sardines are an important part of the Moroccan diet, especially in coastal cities.
Moroccan sardines are safe to eat and they are considered among the best sardines in the world. Moroccan canned sardines are high-quality sardines that are known for their unique taste and excellent quality.
Morocco produces first-choice canned sardines that are freshly caught fish. You may find a vast option of Moroccan canned sardines with a combination of flavors such as basil, lemon, spices, hot pepper, tomato sauce, marinade mustard, and virgin olive oil. Simply, Morocco offers a variety of choices of canned sardines of high quality at a good price to choose from.
Broadly speaking, what really plays a very important role in cooking sardines, is the spices used, which in turn creates a diversity of picks that change according to the coastal regions of Morocco.
Canned sardines are also very tasty and an easy way to consume fish. We eat them:
In sandwiches
In mini pizzas
On canapes, as an aperitif
In mini Batbout for snacks
In potato salads, with a mustard vinaigrette
In fish soups
You can put them in a blender, add little breadcrumbs, and spices and make a hearty stuffing for vegetables, or even dumplings to cook in a tomato sauce to accompany rice.
In a salad, with your favorite raw vegetables.
What Are Moroccan Sardines?
Granted with a coastline of 3,500 km of great biodiversity in the marine environment, Morocco has a strong fishing potential, which plays an important role in the economic and social development of the country.
Generally, we Moroccans like to eat fish in different ways of cooking, but fish cooked in tagine remains the favorite dish of most Moroccans.
One of the best-known tajine-fish recipes in Morocco is Moroccan Sardine Balls: Fish Balls in Tomato Sauce. A delicious authentic recipe of Moroccan fish balls in a homemade spicy tomato sauce. Fillets of sardines, after being cleaned, are chopped, seasoned, shaped into small balls, then poached in the sauce.
Even without having them in a Tajine, Moroccan stuffed sardines are one of the most classic examples of Moroccan street food. The sardine fillets are stuffed with chermoula, then formed like a sandwich, then dipped in flour, and fried in a pan.
We usually serve fried sardines as a starter or alongside with cooked Moroccan lentils and fresh salads to make a complete lunch.
Sardines rank among the nutritional options of seafood. Rich in omega-3 fatty acids, also called healthy fats, sardines contain no sugar or carbohydrates, which makes this small kind of fish an ideal choice for people on a diet.
Why Are Sardines from Morocco?
Fresh or canned Moroccan sardines are well-known throughout the world for their delicious taste, soft bones, and nutritious benefits.
Moroccan sardines can be cooked in numerous ways. Canned Sardines are used in various Moroccan recipes. Moroccan Fish in general is rich in nutrients like iron and calcium and can be an ideal part of a daily diet. The demand for canned sardines from Morocco has increased massively in recent years, mainly due to the quality of the fishing method and the good processing facilities.
Moroccan sardine is a delight when we savor it grilled, or canned that we can take with us everywhere. Although it contains a large amount of very fine bones. Its flesh is filled with good nutrients.
What Are the Health Benefits of Moroccan Sardines?
In fact, Moroccan sardines contain 6 nutritional properties that contribute to our good health.
Good for the heart: Sardines are loaded with omega 3 and vitamin B12. It prevents the risk of cardiovascular disease.
Moroccan Sardines have good iron levels (1.67 mg/100 g). It is tripled when consumed canned.
Fish at a low cost. It allows you to fill up with omega-3 fatty acids, which are good for your heart.
Rich in minerals: a can of sardines contains the equivalent of 35% of the recommended daily intake of calcium. 15% iron, 10% potassium and 45% phosphorus.

Sports ally. Thanks to its precious help in muscle health with its quality proteins.

Strengthens bones with its vitamin D, phosphorus, and calcium. It helps to fight against osteoporosis whether fresh or canned. Whether eaten with or without its bones.
What Are the Best Canned Sardines?
Morocco has a whole range of options of excellent canned sardines, including sardines in oil or in tomato sauce. Adding sardine to an oil base for preservation adds to its flavor and fat content, which is desirable for chefs and consumers.
The most preferred choice is Moroccan sardines in extra virgin olive oil or soybean oil. Moroccan sardines are freshly canned, and the nutritional profile of the fish remains good.
You can find a wide range of canned sardines. The famous Moroccan sardines are the ones in olive oil, sardine with tomato, sardine with chili, sardine with preserved lemon, or even natural, without oil.
Are Moroccan Sardines Sustainable?
Canned sardines from Morocco have long been considered the perfect food to improve cognitive power, in addition to being an excellent fish for boosting cardiovascular function.
It is also one of the few seafood options that are safe for most women just before pregnancy. Canned sardines are among the most popular brands among shoppers.
Moroccan Stuffed Fried Sardines with Chermoula
Allow three to four sardines per person and try to find the smaller, Moroccan sardines.
Ingredients:
2 lb (1 kg) sardines, boned and cut in half lengthways by the fishmonger
2 tablespoons olive oil
½ lemon, thinly sliced
½ teaspoon salt
½ teaspoon ground turmeric
½ teaspoon ground cumin
¼ teaspoon ground white pepper 2 plump tomatoes, peeled, seeded, and chopped 2 cloves garlic,
peeled and crushed
4 tablespoons water
3½ cup (100 g) olives
Ingredients for the filling or Chermoula:
1 bunch fresh cilantro (coriander) leaves, chopped 1 bunch flat-leaf parsley, chopped 2 cloves
garlic, peeled and crushed Juice of ½ lemon
1 tablespoon rice
½ teaspoon salt
½ teaspoon ground turmeric
½ teaspoon ground cumin
¼ teaspoon ground white pepper
2 tablespoons olive oil
Method of Preparation:
To prepare the stuffing chermoula, combine the cilantro, parsley, garlic, lemon juice, rice, salt, turmeric, cumin, pepper, and oil. Mix well and set aside.
Place half a sardine on a plate, cover with a tablespoon of stuffing, then cover with the second fillet. Stuff all the sardines the same way.
Coat the sandwiched sardines with a mix of all-purpose flour.
fry the sardines in hot deep oil for about 3 minutes each side. Drain the excess oil then put the fried sardines on a plate lined with a kitchen towel or paper. Serve to your taste.
If you are on a diet and you don't prefer fried sardines you can opt for the following method:
On a baking tray, spread the oil, lemon slices, salt, spices, tomatoes, and garlic. You may also add any leftover stuffing. Arrange the sardines neatly over this mixture and add 4 tablespoons of water. Bake at 400 to 425°F (200 to 220°C, gas 6 to 7), for 20 minutes.
Serve on a platter with the baked lemons and olives.
What Is so Special About Morocco? Reasons Why You Should Visit Morocco
Morocco is a land of glamorous and vivid contrasts. The gateway to two continents, it is a country of breathtaking landscapes, rich in history and heady with magnific scents and spectacular sights.
While the countryside is home to old traditions and diverse peoples, the ever-growing urban centers boast incredible new architecture together with the old, and activities to suit all modern tastes.
Morocco's diverse geography, multicultural atmosphere, and rich history make it a mesmerizing country.
Its towns offer a striking contrast of ancient kasbahs, mosques and souks and modern architecture, with a
mix of Berber, Arab and African peoples.
In the crowded ancient medinas, young men in designer jeans haggle over cell phones alongside traditionally dressed women shopping for housewares.
In the fertile countryside, a farmer riding on a goat is as common a sight as a television satellite perched on a mud-brick roof.
Moroccan culture is extremely rich and difficult to pigeonhole. Moroccan landscape includes beaches, mountains, lakes, forests, and deserts.
Morocco is a unique blend of Arab, African, and European ways of life, and the Moroccans wouldn't have it any other way.
Moroccan cuisine is rich and varied, owing to a variety of cultural influences. Meat is well-spiced and lean, vegetables are fresh and abundant, and everything is permeated with spices.
Moroccan cooking is quite labor-intensive and dishes are pleasingly presented as well as meticulously prepared.
Beef, lamb, fish, and chicken are all popular and used in a variety of dishes. Pigeon and turkey are also available, and the seafood in the coastal cities is not to be missed.
Meat is prepared according to Islamic halal regulations.
Rice, semolina wheat, and barley grains are used for a variety of dishes. A wide range of spices is used, including cumin, saffron, paprika, ginger, cinnamon, red and black pepper, and a special mixture called ras al-hanout is widely used in Moroccan cuisine.
A typical Moroccan meal starts with something fresh or cooked salads, olives and pickled vegetables and bread, and sometimes a cold beverage. The main course is then brought out, usually in a large pot, or tajine.
Moroccans will either eat from the main dish with their hands or using spoons, or serve food on to individual dishes.
After the main course is through and plates are removed, various fruits are arranged on the table, and mint tea is served, sometimes with Moroccan cookies.