You may ask these interesting questions: What fruits and vegetables does morocco produce? What do they grow in Morocco?
Morocco boasts over 3,540 km of coastline bordering the Mediterranean and the Atlantic Oceans. It is also home to four mountain ranges: the rugged Rif Mountains in the north; the Middle and High Atlas, which create a natural division between the coastal regions and the Sahara.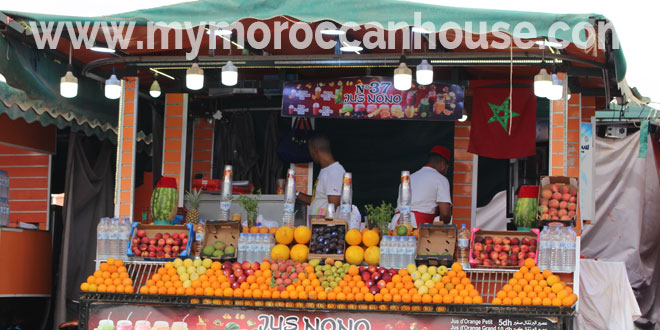 Morocco is a country rich in quality local products that consist of seasonal crops which are grown mainly in open fields. Major crops are Potatoes, tomatoes, onions, melons, watermelons, carrots, and turnips. Peppers, mint, zucchini, and peas are also important crops.
Morocco presently exports over 50 to 60 kinds of fruits and vegetables, these include citrus fruits, green beans, zucchini, tomatoes, berries, pumpkins, etc. Citrus fruits and tomatoes lead in the fresh produce exports, together occupying the major share of the market.
Morocco ranks in the TOP 5 world exporters for the following products:
1st world exporter of capers;
1 st world exporter of argan oil;
3 rd world exporter of canned olives;
3 rd world exporter of small citrus fruits;
4th world exporter of tomatoes.
Does Morocco Grow Mangoes?
Morocco grows and exports mangoes. The tropical Asian-origin mango fruits can grow in Morocco. Morocco exported 175 tonnes during the last crop year.
Other fruits that grow well in Morocco are as follows:
The Fig tree (500,000 trees),
the Almond tree (8,330,000 trees),
the Pomegranate tree (780,000 feet),
the Apricot tree (one million trees),
the Black Mulberry, planted especially along the roads,
the Carob tree (1,460 ha) are the most cultivated fruit trees by Moroccans.
What Does Morocco Produce the Most Of?
Morocco has produced a very wide variety of species:
Custard apple
custard apple is a fruit native to tropical and subtropical America, cultivated in Asia and the West Indies. Its green skin resembles fish scales, but it is matte and slightly velvety. Each fruit can weigh from 200 gr to 2 kg.
Moroccan exported production is low (380 kg) but it proves that this fruit can be grown in our latitudes.
Nashi
Another rare fruit: is the kumquat, originally from Asia, but introduced to Europe in the 19th century, and resistant to temperatures below zero. It is a very small citrus fruit, whose fruits are the size of a plum. It is grown in Morocco: in total, the country exported 48 tons during the last season.
Toad Skin Melon
The melons produced in Morocco are of a wide variety: red watermelon, Charentais melon or cantaloupe (also called Cavaillon melon) and canary melon (yellow and elongated), more original varieties are grown: the skin of toad, often referred to by its Spanish name piel de sapo, is close to the canary, unlike its mottled skin where dark green dominates; or the galia (grainy yellow skin, pale yellow flesh), the embroidered (its rough skin is as if embroidered), the dalton, etc.
Watermelon
Morocco is at the same time the world's fifth-largest exporter of watermelon with 252.98 million kilos exported in 2021, or 6.97% of total world exports,
Grapes
As for grapes, Morocco cultivates over thatn 7 different varieties. In addition to white, red, flame and sugraone (seedless), two varieties are experiencing strong growth in their exports. These are the early varieties harvested from the end of May: early sweet (white) and prima (black).
Saffron
The saffron sector plays an important socio-economic role through the enhancement of the land in the production regions and the contribution to the additional income of rural populations.
The volume of exports is highly variable from one year to another, varying according to national production and the export price.
Argan Oil
The argan tree sector plays an important socio-economic role thanks to its multiple and diversified uses (employment, production, exports, etc.), its confirmed environmental properties for maintaining the ecological balance as well as its health and food virtues. and recognized cosmetics.
The EU is the main destination for argan oil exports
Tomatoes
Tomatoes have many varieties: first, small fruits, cherries or cocktails, but also the biggest with beef. Less common on our markets, but grown in Morocco: pear tomatoes or olivettes (elongated).
Potatoes
Potatoes: there are no less than 35 different varieties, answering the names of galactica, eurostar, Désirée, Camel, Kondor, or even Pamela. Nicolas is the most exported (15,000 tons), some only cross our borders at the rate of a few tons.
Does Morocco Grow Oranges?
Citrus fruits, emblematic fruits of Morocco, are largely exported. 11 varieties of oranges, 10 varieties of small citrus (mandarins and clementines), two of grapefruit (yellow and pink), and one of lemon representing 568,000 tonnes exported.
The Nules clementine (named after the town in Spain where it originated) is one of the new varieties. The export reached 73 tons this season, whereas we had not exported any last year.
The Nour (117,000 tons, twice as much as last year), developed in Morocco for ten years and cultivated intensively in Spain, is the best late clementine.
Ortanique (nearly 9,000 tonnes), difficult to peel and very juicy, is a hybrid of mandarin and sweet orange, the tree of which is particularly productive.
Finally, the nova, a hybrid mandarin whose harvest takes place in December and January, is on the rise: from one year to the next, the quantities exported have doubled.
What Is so Special About Morocco? Reasons Why You Should Visit Morocco
Morocco is a land of glamorous and vivid contrasts. The gateway to two continents, it is a country of breathtaking landscapes, rich in history and heady with magnific scents and spectacular sights.
While the countryside is home to old traditions and diverse peoples, the ever-growing urban centers boast incredible new architecture together with the old, and activities to suit all modern tastes.
Morocco's diverse geography, multicultural atmosphere, and rich history make it a mesmerizing country.
Its towns offer a striking contrast of ancient kasbahs, mosques and souks and modern architecture, with a
mix of Berber, Arab and African peoples.
In the crowded ancient medinas, young men in designer jeans haggle over cell phones alongside traditionally dressed women shopping for housewares.
In the fertile countryside, a farmer riding on a goat is as common a sight as a television satellite perched on a mud-brick roof.
Moroccan culture is extremely rich and difficult to pigeonhole. Moroccan landscape includes beaches, mountains, lakes, forests, and deserts.
Morocco is a unique blend of Arab, African, and European ways of life, and the Moroccans wouldn't have it any other way.
Moroccan cuisine is rich and varied, owing to a variety of cultural influences. Meat is well-spiced and lean, vegetables are fresh and abundant, and everything is permeated with spices.
Moroccan cooking is quite labor-intensive and dishes are pleasingly presented as well as meticulously prepared.
Beef, lamb, fish, and chicken are all popular and used in a variety of dishes. Pigeon and turkey are also available, and the seafood in the coastal cities is not to be missed.
Meat is prepared according to Islamic halal regulations.
Rice, semolina wheat, and barley grains are used for a variety of dishes. A wide range of spices is used, including cumin, saffron, paprika, ginger, cinnamon, red and black pepper, and a special mixture called ras al-hanout is widely used in Moroccan cuisine.
A typical Moroccan meal starts with something fresh or cooked salads, olives and pickled vegetables and bread, and sometimes a cold beverage. The main course is then brought out, usually in a large pot, or tajine.
Moroccans will either eat from the main dish with their hands or using spoons, or serve food on to individual dishes.
After the main course is through and plates are removed, various fruits are arranged on the table, and mint tea is served, sometimes with Moroccan cookies.