You have reached this interesting post as you might be among those who have asked the following questions: Why Moroccan Food is the Best? Why is Moroccan food so popular? What is special about Moroccan food? How good is Moroccan food? Is Moroccan cuisine healthy? Is Moroccan food the best in the world? What's Morocco famous for? How would you describe Moroccan food? if so, then you have come to the right place.
Why Moroccan Food is the Best?
Moroccan cuisine has always been one of the favourite cuisines of many people around the world. Many have tried out Moroccan restaurants and fallen in love with their rich sumptuous taste, which is nothing like any other cuisine. The food here in Morocco reflects all parts of our culture, including Berber, Arabic and Mediterranean influences. It is often characterized as one of the best cuisines in the world and it is worth it.
Moroccan food has made its way to almost every part of the world and has always been a delight to many of us. However, there is something fascinating about Moroccan food that makes you come back for more and never be completely satisfied with what you have tasted.
The food of Morocco is rich, sensual, colorful, sophisticated and artfully presented. The success of Moroccan cuisine, recognized today as one of the best in the world, lies in its ability to marry flavors, aromas and spices. A Moroccan dish is an invitation for all the senses: from smell to sight and taste.
Moroccan gastronomy occupies the first places in the rankings which list the best cuisines in the world. Moroccan cuisine seduces with its spices, flavors and multiple influences.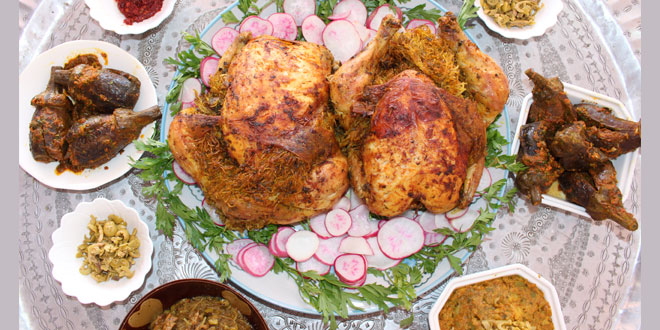 Why Is Moroccan Food so Good?
Moroccan food has evolved primarily due to its proximity to the sea and the Berber traditions that are closely followed in Morocco. The use of spices is prominent in Moroccan cuisine, which makes it very healthy and distinct from other cuisines.
These spices are basically acquired through trading with various merchants including Arabian, Jewish, Indian, Italian and Maltese traders. Although, a large number of these spices are not grown in Morocco directly but have been brought from outside sources to add an extra flavour to the food that is native to this country.
In addition to being rich in taste, Moroccan dishes are also known for their unique preparation styles and methods. This makes the cuisine very special and has a characteristic that is all its own.
It is not just the spices and preparation styles but also the presentation of Moroccan dishes that makes them so appetizing and hard to resist. This style of cooking has been copied in many other countries including France, Australia and the United States with success.
Is Moroccan Cuisine Healthy?
Moroccan cuisine may be refined and traditional but it is also healthy. The ingredients used are fresh, seasonal and locally grown or produced to ensure that there is no loss of nutritional value in the cuisine.
Many Moroccans not only enjoy their food but also make sure that they eat well and good food, which is why Moroccan restaurants located outside Morocco are full every day of the week.
How would you describe Moroccan food?
The name Morocco itself conjures up images of colorful markets and stalls overflowing with fresh ingredients to tickle all taste buds. If you've not tried it already, do so now. You will not be disappointed.
Any Moroccan dish that you try will certainly impress you, be it tagine or couscous, harira or pastilla. It's full of the most sumptuous flavors.
The various recipes and methods of cooking around Morocco are a mixture of Berber, Arab, Mediterranean and African influences. This gives the food a rich flavour that enhances each dish you eat.
The most famous ingredients used in Moroccan cuisine include olives, pickled lemons, garlic, olive oil, figs and dates. All these things can be grown in Morocco due to its geographical location.
This unique cuisine from Morocco is a wonderful marriage of flavors and spices which makes it so special.
The predominant aromas in Moroccan food are ginger, cinnamon, saffron, turmeric and cumin among others. In addition to these spices, Moroccan food also features paprika, parsley and red pepper among other ingredients.
The richness of this food is due to a number of reasons. The first is the ingredients used in it and how they're prepared. And secondly, the spices used to make such dishes as tagines (meat simmered with vegetables and fruit served at room temperature), couscous (semolina) and Harira (a thick chickpea soup) among others.
When these ingredients are combined, the result is mouth-watering, especially when one considers that they were used in desserts as well. For example, almond pastries and almond biscuits are also staples of Moroccan cuisine.
Due to the richness of this cuisine, it's advisable to eat small portions at a time, especially when the food is served hot. However, this doesn't mean it's not tasty, even in such small quantities.
Moroccan food is also rich in spices and flavourings. All of these enhance the taste to make every morsel you eat one worth savouring.
What Kind of Food Is Popular in Morocco?
Moroccan cuisine is very well known for its use of spices and the richness it brings out in different types of dishes. One particular spice used is ras el hanout. The spice mixture varies depending on where it comes from, but often includes cumin, ginger, turmeric, cinnamon and pepper among other main components.
Some dishes that are popular to eat in Morocco include:
mechoui (whole roast lamb)
Harira.
Sardines with Chermoula.
Tagine
Zaalouk.
couscous
Baghrir
Bastilla.
Mint Tea.

Briouats.
Famous Moroccan Food You Should Try
If you are in the mood for tasty and savory Moroccan dishes, here is a list of some popular choices you should try. The descriptions given will help you appreciate the richness and flavour of these nutritious meals:
Chicken pastilla- So rich and tasty! It's layers of flakey pastry filled with spiced-up chicken and nuts.
Sfenj: These fluffy round donuts are best eaten hot as they turn soggy as they cool down. They're such a treat to snack on.
Bastilla: This is similar to chicken pastilla but the difference lies in the filling which has a sweet touch. The pastry used for this dish is also different from that of chicken pastilla.
Tangia: Tangia is a slow-cooked meat stew with lots of flavour. It's rich in taste and contains potatoes, dried raisins and almonds which add variety to the meal.
Briwat: A flakey pastry stuffed with cheese, parsley, and spices. Quite an interesting combination but you won't regret it.
Mkaila: Macaila is a sweet dish made with semolina, sugar, and cinnamon. It's surprisingly light for such a rich combination of ingredients and is best eaten as a snack.
Tajine: Traditional Moroccan cuisine wouldn't be complete without the most popular dish- Tajine. This traditional stew comes in many different varieties but most are made with vegetables and meat.
Served in a tajine pot, it is cooked slowly on charcoal which makes the food much more flavoursome.
Fish Couscous: This dish is one of the best! It's actually served as an appetiser but can also be served as a main course. The couscous grains are made with fish stock and cooked slowly. It is then served with vegetables, lemon juice and harissa sauce
Bid b-maticha: This is a dish that is easy and quick to make which actually consists of eggs poached in a sauce made with tomatoes, sometimes including onion and garlic. It is traditionally cooked in a cast iron pan and it can be eaten with bread.
Harissa Sauce: This sauce is popular in Morocco and it also comes accompanied by tagine and bread. It is spicy hot so don't overdo it! Harissa sauce consists of chili, red peppers, garlic, olive oil, coriander and other spices.
Couscous: This is a North African dish and it is made up of small grains which resemble pasta. They are served with foods like vegetables, meat and sauces, tomato sauce or even just olive oil. Couscous comes in many sizes but the most common ones are large and medium.
Tagine khodra: This is a vegetarian dish that consists of vegetables as cauliflower, green peas, turmeric, and coriander to name a few ingredients. It comes served best with Moroccan bread.
Pastilla: This is a type of pie made up of phyllo pastry, nuts, and sugar served with powdered sugar on top. It's usually associated with weddings because the dish represents family unity.
What Is so Special About Morocco? Reasons Why You Should Visit Morocco
Morocco is a land of glamorous and vivid contrasts. The gateway to two continents, it is a country of breathtaking landscapes, rich in history and heady with magnific scents and spectacular sights.
While the countryside is home to old traditions and diverse peoples, the ever-growing urban centers boast incredible new architecture together with the old, and activities to suit all modern tastes.
Morocco's diverse geography, multicultural atmosphere, and rich history make it a mesmerizing country.
Its towns offer a striking contrast of ancient kasbahs, mosques and souks and modern architecture, with a
mix of Berber, Arab and African peoples.
In the crowded ancient medinas, young men in designer jeans haggle over cell phones alongside traditionally dressed women shopping for housewares.
In the fertile countryside, a farmer riding on a goat is as common a sight as a television satellite perched on a mud-brick roof.
Moroccan culture is extremely rich and difficult to pigeonhole. Moroccan landscape includes beaches, mountains, lakes, forests, and deserts.
Morocco is a unique blend of Arab, African, and European ways of life, and the Moroccans wouldn't have it any other way.
Moroccan cuisine is rich and varied, owing to a variety of cultural influences. Meat is well-spiced and lean, vegetables are fresh and abundant, and everything is permeated with spices.
Moroccan cooking is quite labor-intensive and dishes are pleasingly presented as well as meticulously prepared.
Beef, lamb, fish, and chicken are all popular and used in a variety of dishes. Pigeon and turkey are also available, and the seafood in the coastal cities is not to be missed.
Meat is prepared according to Islamic halal regulations.
Rice, semolina wheat, and barley grains are used for a variety of dishes. A wide range of spices is used, including cumin, saffron, paprika, ginger, cinnamon, red and black pepper, and a special mixture called ras al-hanout is widely used in Moroccan cuisine.
A typical Moroccan meal starts with something fresh or cooked salads, olives and pickled vegetables and bread, and sometimes a cold beverage. The main course is then brought out, usually in a large pot, or tajine.
Moroccans will either eat from the main dish with their hands or using spoons, or serve food on to individual dishes.
After the main course is through and plates are removed, various fruits are arranged on the table, and mint tea is served, sometimes with Moroccan cookies.