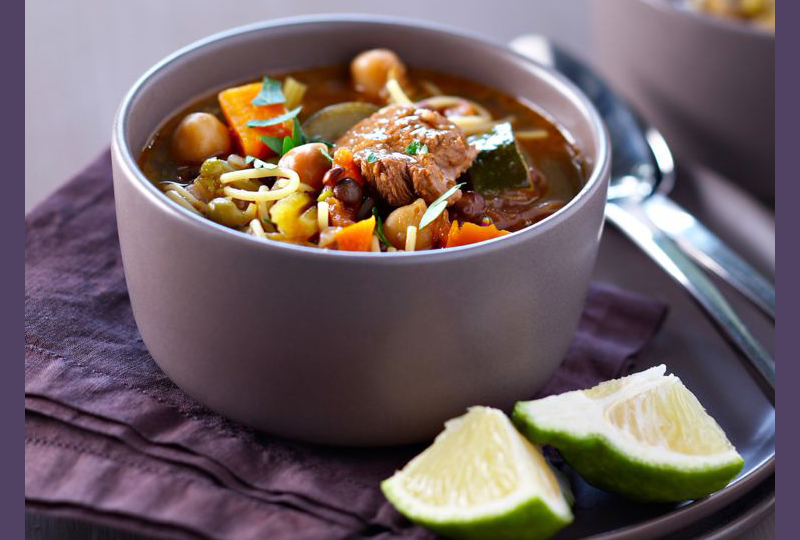 SPICY MOROCCAN LAMB SOUP
Serves: 4–6
Prepare: 15 minutes Cook: 1 hour 15 minutes
1 tbsp rapeseed oil
2 onions, peeled and sliced
2 peppers (1 red, 1 green),deseeded and cut into strips 'optional'
250g lamb, preferably leg meat, finely diced into ½–1cm cubes
1 tsp turmeric
1 tsp ground ginger
1 tsp ground coriander
2 tsps ground cumin
½ tsp cinnamon
½ tsp hot chilli powder
1 pinch of saffron strands
1 litre chicken stock or water
400g can of tomatoes
2 tbsps chopped fresh coriander, plus extra for serving
2 tbsp chopped flatleaf parsley, plus extra for serving
400g can of chickpeas, drained and rinsed
50g long-grain rice
Freshly squeezed juice of ½ lemon
Flaked sea salt
Freshly ground black pepper

1 Heat the rapeseed oil in a large saucepan. Add the onions and peppers and cook for a few minutes over a low to medium heat until they start to soften.
Turn up the heat, add the lamb and brown it quickly on all sides.
2 Turn the heat down again and add all the spices (or the spice
blend, if using) .
Sauté for a couple more minutes until everything is well combined,
then pour in the stock. Season with salt and freshly ground black
pepper. Bring to the boil, then turn the heat down and leave the soup to simmer for 30 minutes.
3 Put the tomatoes in a blender with 2 tablespoons each of coriander and parsley and blitz until the herbs are very finely chopped. Pour this mixture into the saucepan, then add the chickpeas and rice. Simmer for another 30 minutes, by which time the meat should be beautifully tender. Just before
serving, stir in the lemon juice and taste for seasoning, then adjust if necessary. Sprinkle with chopped coriander and parsley and serve.
image by Veigas