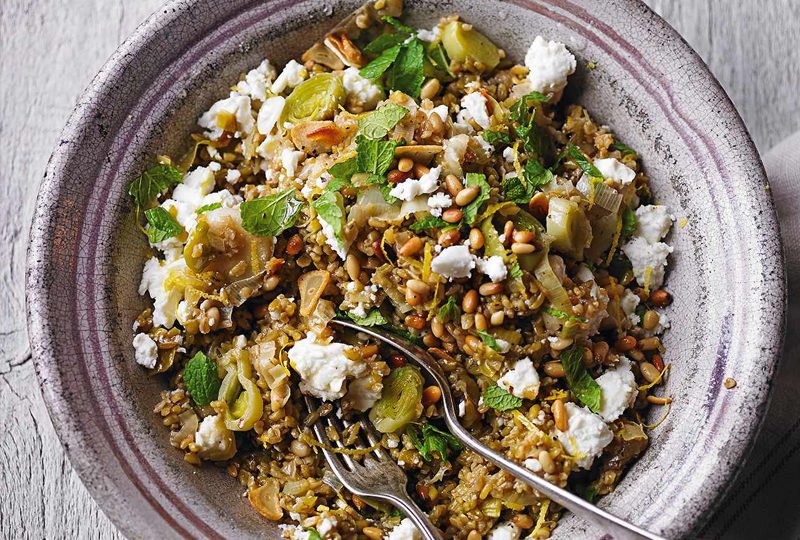 SERVES 2 PREP 5 mins COOK 40 mins
400g/14oz leeks
3 tbsp olive oil
200g/7oz freekeh
20ml/2f oz white vinegar
400ml/14f oz vegetable stock
a few thyme sprigs
2 plump garlic cloves, sliced
3 tbsp pine nuts
100g/4oz feta
2 tbsp fnely chopped mint
juice and zest 1 lemon
1 Finely slice the leeks, keeping all the dark green tops. Put in a colander and rinse well under running water, then set aside to drain.
2 Put a large heavy-based pan on the hob over a moderate heat, pour in 2 tbsp of the oil and tip in the leeks. Stir well and cover with a lid. Cook the leeks for 10–15 mins, stirring occasionally, until they are very soft.
3 While the leeks cook, soak the freekeh in a bowl for 5 mins in plenty of cold water. Tip it into a sieve and rinse under running cold water, then drain well.
4 Add the freekeh to the leeks along with the vinegar, stock and thyme and bring to a simmer. Cook the freekeh over a low heat, stirring from time to time, for 20-25 mins.
Switch off the heat and let the contents of the pan stand while you prepare the feta and pine nuts.
5 Heat the remaining tbsp oil in a frying pan
until hot, add the garlic and pine nuts, and cook until both the nuts and the garlic are lightly browned. Crumble the feta and toss this along with the garlic-nut mix, the mint and lemon juice and zest into the freekeh.
Taste and correct the seasoning, then serve at room temperature.
image by goodfood