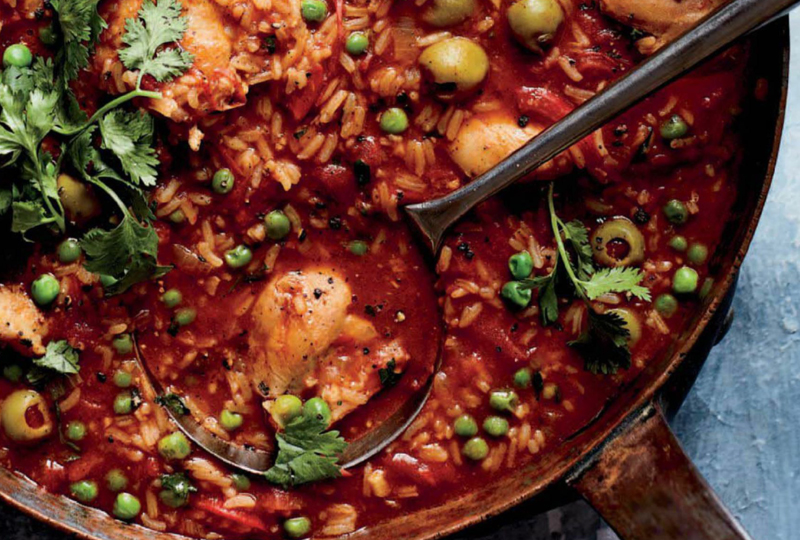 Serves 10
Overcooking your rice a bit creates the
creamy body for this chicken and vegetable
stew.
Ingredients:
5 Tbsp. olive oil, divided
2 lb. skinless, boneless chicken thighs
1 tsp. adobo seasoning Salt and freshly ground black pepper
2 red bell peppers, thinly sliced
1 onion, finely chopped
4 garlic cloves, finely chopped
2 Tbsp. tomato paste
4 cups chicken stock or low-sodium chicken broth
2 (14.5-oz.) cans diced tomatoes
2 cups water
1 bay leaf
1/4 tsp. crushed red pepper
11/2 cups medium-grain rice
1 cup thawed frozen peas
1 cup small pimiento-stuffed olives
1/4 cup chopped cilantro
In a large enameled cast-iron Dutch oven or heavy pot, heat 3 tablespoons of the olive oil. Season the chicken with the adobo
and black pepper. Brown the chicken in 3 batches over moderately high heat, 6 to 8 minutes per batch, turning each halfway through. Transfer the browned chicken thighs to a plate.
In the pot, heat the remaining 2 tablespoons oil. Add the bell peppers, onion, and garlic to the pot, and cook over moderate heat, stirring occasionally, until softened, about 6 minutes. Stir in the tomato paste
and cook until it turns brick red, about 1 minute. Add the chicken stock, tomatoes and their juice, 2 cups water, bay leaf, and crushed red pepper. Bring to a simmer.
Return the chicken to the pot, stir in the rice, and cook, covered, over moderately low heat until the rice is tender, about 20 minutes. Season with salt and black pepper.
Stir in the peas and olives, and let stand until heated through, about 1 minute. Sprinkle with cilantro before serving.
Preheat grill to medium (350°F to 450°F).
Grill ribs, turning occasionally and glazing with marinade, 10minutes. Continue grilling, turning occasionally, until cooked through and juicy, 5 to 10 minutes. Garnish with sesame seeds and remaining scallions.