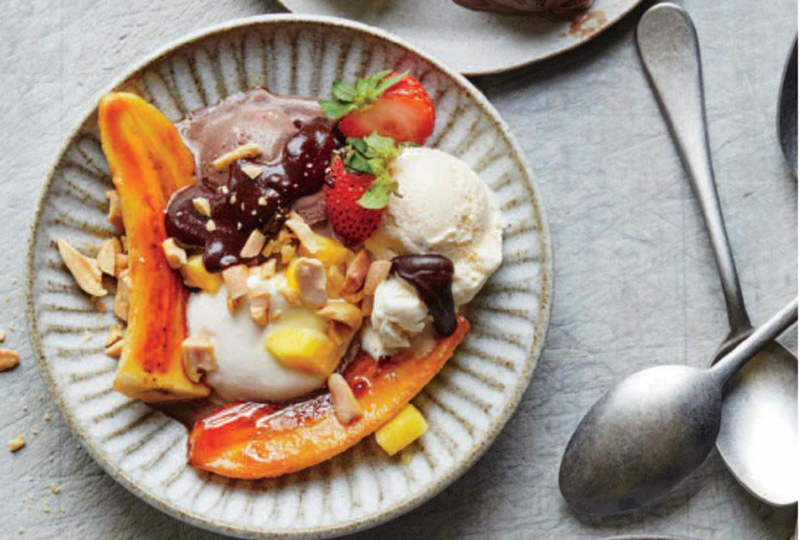 Serves 8

A crunchy coating of caramel is key to this riff on the classic banana split.

ESPRESSO HOT FUDGE

4 oz. 60% bittersweet chocolate, finely chopped
1/4 cup heavy cream
1 Tbsp. light corn syrup
2 tsp. instant espresso
CARAMELIZED BANANAS

4 bananas, peeled, split lengthwise, and halved
2 cups sugar
1/2 cup water
SUNDAE

1 qt. vanilla ice cream
1 qt. chocolate ice cream
1 qt. strawberry ice cream
8 fresh strawberries, halved lengthwise
1/4 cup lightly salted peanuts, chopped
1/2 cup 1/4- to 1/2-in. cubed fresh pineapple
2 cups sweetened whipped cream
[ads1]
Make the espresso hot fudge: In a small bowl set over a pot of boiling water, combine chocolate, heavy cream, corn syrup, and instant espresso.
Cook, stirring with a rubber spatula, until smooth, 4 to 5 minutes. Keep warm.
Make the caramelized bananas: Place bananas, cut side up, on a wire rack set on a baking sheet lined with parchment paper. Place sugar and 1/2 cup water in a small saucepan. Cook over moderate heat until mixture is amber, bubbles are thick, and a candy thermometer registers 375°F, 16 to 17 minutes.
Immediately brush caramel over bananas; let stand until cooled completely and hardened, about 30 seconds.
Make the sundaes: Place bananas, caramel side up, in serving dishes. Top evenly with ice cream, hot fudge, strawberries, peanuts, and pineapple.
Serve with whipped cream.
MAKE AHEAD Chocolate sauce can be made 3 days ahead and chilled. Before serving, reheat in a small bowl set over a pot of boiling water, or microwave in 30-second increments.