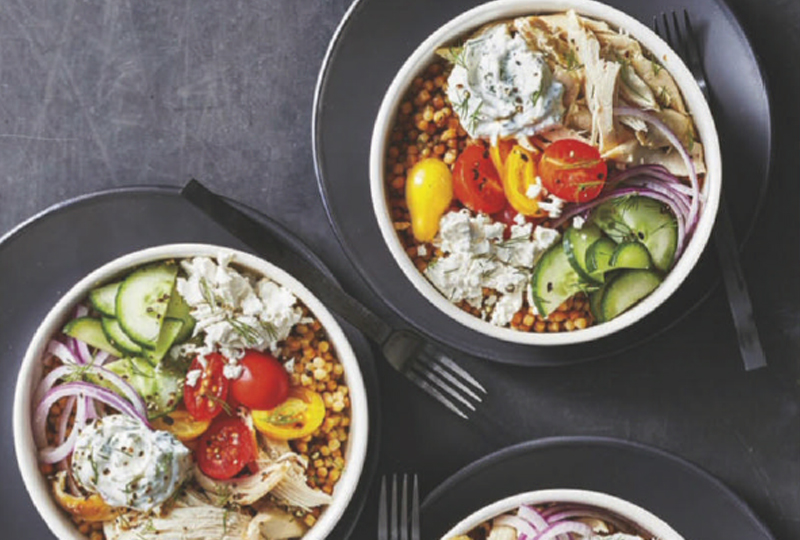 Serves 4
Mix up the vegetables in these couscous bowls; try swapping carrots and
broccoli for tomato and cucumber.
Ingredients:

1 Tbsp.olive oil
1½ cups uncooked whole-wheat couscous
2¼ cups water
½ cup plain whole-milk Greek yogurt
3 Tbsp.whole buttermilk
1½ Tbsp.white vinegar
½ tsp. kosher salt
½ tsp. freshly ground black pepper
1 garlic clove, grated
1½ Tbsp. chopped fresh dill, divided
12 oz. skinless, boneless rotisserie chicken (white and dark meat), shredded (about 3 cups)
1 small English cucumber,halved lengthwise and sliced (about 1½cups)
1 cup multicolored cherry tomatoes, halved
½ cup thinly sliced red onion
1 oz. feta cheese, crumbled (about ¼cup)
Preparation:
Heat oil in a large saucepan over medium-high.
Add couscous; cook 3 minutes or until lightly toasted, stirring frequently. Add 2¼cups water; bring to a boil. Reduce heat; cover and simmer 14 minutes or until done.Drain; rinse with cold water.Drain.
Combine yogurt and next 5 ingredients (through garlic) in a bowl. Stir in 1 tablespoon dill. Divide cooked couscous evenly among 4 bowls. Arrange chicken, cucumber, tomatoes, red onion, and feta evenly over couscous. Top each serving with about 3 tablespoons yogurt mixture;
sprinkle with remaining 1½teaspoons dill.