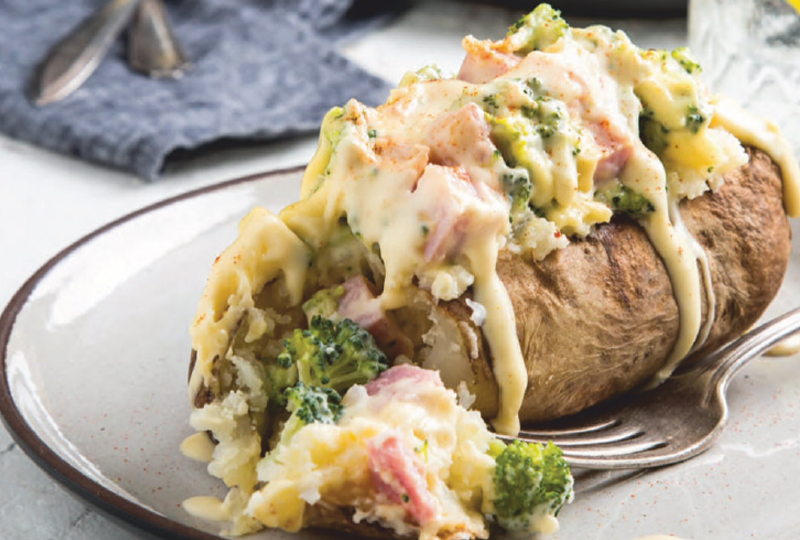 Makes 4 servings
Baked Potatoes
1 cup heavy whipping cream, heated and divided
2 teaspoons kosher salt, divided
2 cups small fresh broccoli florets
1 cup water
1 cup shredded triple Cheddar cheese blend
¼ teaspoon ground black pepper
1½ cups diced ham
Preheat oven to 350°. Line a large rimmed baking sheet with foil.
Using a sharp knife, slice russet Baked Potatoes lengthwise down center. Scoop out potato pulp into a large bowl, leaving a ½-inch-thick shell. Place potato shells on prepared pan.
Add ½ cup warm cream and 1 teaspoon salt to potato pulp, and beat with a mixer at medium speed until mixture is smooth.
In a medium saucepan, bring broccoli, 1 cup water, and ½ teaspoon
salt to a boil over medium-high heat.
Cover and cook until broccoli is slightly tender, 3 to 4 minutes. Drain well, and add broccoli to potato mixture.
In same saucepan, bring remaining ½ cup cream to a low boil over medium heat. Reduce heat to low, and stir in cheese, pepper, and remaining ½ teaspoon salt until melted and smooth. Stir cheese sauce and ham into broccoli and potato mixture until combined. Spoon mixture into potato shells.
Bake until potatoes are heated through, about 20 minutes.
Serve immediately.