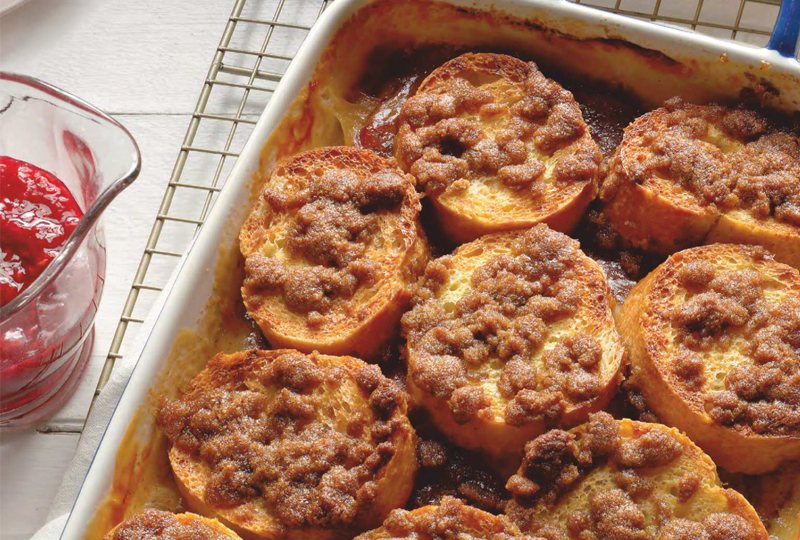 Prep: 20 min. + chilling
Bake: 30 min. + standing
Makes: 10 servings
(1³/ ₄ cups sauce)
1 loaf (1 lb.) French bread,
cut into 20 slices
2 Tbsp. Dijon mustard
¹/ ₂ lb. sliced deli ham
¹/ ₂ lb. sliced Swiss cheese
¹/ ₂ lb. sliced deli turkey
6 large eggs
1¹/ ₂ cups whole milk
2 tsp. sugar
2 tsp. vanilla extract

TOPPING
¹/ ₂ cup packed brown sugar
¹/ ₄ cup butter, softened
¹/ ₂ tsp. ground cinnamon

RASPBERRY SAUCE
¹/ ₃ cup sugar
1 Tbsp. cornstarch
¹/ ₄ cup cold water
¹/ ₄ cup lemon juice
¹/ ₄ cup maple syrup
2 cups fresh or frozen raspberries
Line a greased 13×9-in. baking dish with half of the bread. Spread the mustard over bread. Layer with ham, cheese, turkey and remaining bread (dish will be full).
In a large bowl, whisk eggs, milk,sugar and vanilla; pour over top.
Refrigerate, covered, overnight.
Preheat oven to 375°. Remove casserole from refrigerator while
oven heats. In a small bowl, mix topping ingredients; sprinkle over
casserole. Bake, uncovered, until golden brown, 30-40 minutes.
Meanwhile, in a small saucepan, combine sugar and cornstarch. Stir in water, lemon juice and maple syrup until smooth. Add raspberries. Bring to a boil; cook and stir until thickened, about 2 minutes. Cool slightly.
Let casserole stand 10 minutes before cutting. Serve with sauce.