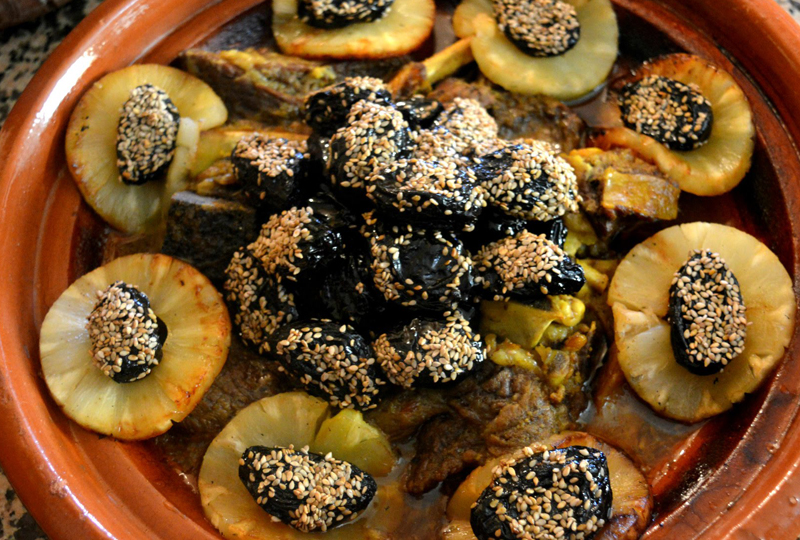 Serves 6
Ingredients:
1kg (2lb) shoulder of lamb,cut in 4 cm (1 1/2 ") cubes
2 Spanish onions,
coarsely grated 3 plump garlic gloves,
crushed 4 tbsp of olive oil
large pinch of dried chilli flakes
1/2 tsp ground ginger 1/2 tsp ground cumin
1/2 tsp paprika
pinch of crushed saffron threads
400 gm (13oz) cans of tomatoes
1 strip orange rind
2 cinnamon sticks
bunch of coriander, chopped
24 large ready-to-eat prunes
3-4 tbsp clear honey
75 gm (3oz) toasted blanched whole almonds
pepper
mint leaves to garnish
1. Put the lamb into a bowl. Add the onions, garlic, oil, chilli flakes, ginger, cumin, paprika, saffron and plenty of black pepper.
Stir to coat the meat well. Cover and leave to marinade in a cool place for at least 2 hours, or in the refrigerator overnight.
2. Heat a large, heavy frying pan. Add the lamb in batches and brown evenly. Transfer to a tagine or heavy casserole. Put the marinade into the frying pan and cook, stirring for 2-3 minutes then stir in the lamb.
Add the tomatoes, orange rind, cinnamon and half of the coriander. Mix well then cover and cook in a preheated oven, 160C (gas mark 3), for 1 1/4 hours.
3. Meanwhile, put the prunes into a saucepan with the honey and just enough water to cover and simmer for 10 minutes.
4. Add the prunes and the cooking juices to the tagine and cook for 15 minutes, adding the remaining coriander after about 7 minutes.
5. Scatter almonds over the tagine, garnish with mint leaves or with pineapple circles.