You have reached this interesting post as you might be among those who have asked the following questions: How to Make a Traditional Moroccan Hammam at Home in 7 Easy Steps? What do we need for Moroccan bath? What is a traditional Moroccan bath? What do they do in a hammam? How do you recreate a hammam at home? How is Morocco bath done? How often should you do a Moroccan bath? if so, then you have come to the right place.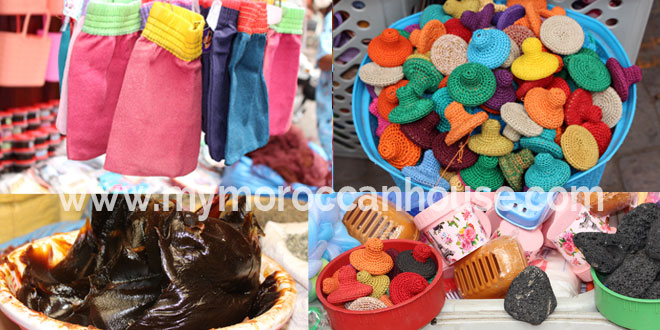 This post is an interesting comprehensive guide that will provide clear answers to most of your questions about the Moroccan hammam.
Making Moroccan Hammam at home is relatively simple and so beneficial for your body and your well-being. so, let's get started!
How to Make a Moroccan Hammam at Home: The Art of Bathing
The hammam is the beauty secret of Moroccan women. Moroccan Hamman should not be confused with the sauna which offers only dry heat. In the hammam, the level of humidity and heat is very high.
Moroccan hammam has excellent benefits for health. It is also a unique opportunity to rest and regain strength before the start of the week, and Moroccan women take care of themselves by going or doing Hammam at home. Moroccan hammam for Moroccans is a beauty and well-being ritual they can never do without.
What Is Moroccan Hammam Treatment? and What are Its Health Benefits?
"Hammam" simply means "hot water bath" in Arabic. Moroccan hammam is a beauty ritual appreciated for its purifying effects that help detoxify the skin. Indeed, the steam helps to loosen extremely tense muscles and to open the pores of the skin.
The hammam is made up of 3 rooms which allow you to gradually increase the temperature until you reach the hottest room. Accordingly, after doing the steamy Moroccan Hammam, you feel fully fresh clean, and relaxed.
The black soap and the Kassa glove, used in the hammam procedures, exfoliate the skin, get rid of dead cells, and activate blood circulation. The following list illustrates other incredible benefits Moroccan hammam has for the health:
The hammam evacuates stress
The hammam cleans the skin
The hammam allows the blood to circulate better
The heat allows you to relax
The hammam helps relieve the muscles aches and pains
How to Make a Traditional Moroccan Hammam at Home in 7 Easy Steps?
I you do not have a Moroccan hammam where you live. It is possible to treat yourself to all the benefits of the hammam routine at home which I assure you it will be as excellent as the traditional Moroccan hammam.
As a busy Moroccan mom, I don't go to a hammam but rather make my own beauty treatment at home. I follow 8 essential but easy steps. and after enjoying my Moroccan bath, I drink orange juice or Moroccan mint tea to soothe my thirst, such a delight!
Here are my easy 5 steps to make a Moroccan hammam at home:
Step 1: Apply Henna Paste or Argan Oil to Your Hair
Just like the skin, the hair needs to be nourished to stay healthy and shiny. My mother used to apply oil and Moroccan herbal treatment to my hair before going to Hammam. The hair treatment gives it all the necessary elements to be revitalized and shiny, as well as to stop hair loss or hair fall. The vitamins present in this oil deeply nourish and regulate the sebum secreted by the hair to hydrate it and protect it from dryness and the sun's harmful UV rays.
Some Moroccan women would also prefer applying henna and olive oil in addition to some herbs a hair mask. The henna treatment gives shine to their hair and keeps it healthy.
When making hair treatment recipes, my mother, and my choice now, used to opt for either olive oil or argan oil.
Argan oil seems to be the ideal hair treatment for almost all of our problems. if you suffer from dry or damaged hair, argan oil has highly concentrated levels of vitamin that helps treat it efficiently by nourishing, hydrating, and targeting split ends.
What is more, argan oil can help treat dandruff, irritated scalp and even prevent hair loss.
In future posts, I will share with you the secret recipe that my mother makes out of Moroccan oil and herbs to treat damaged hair.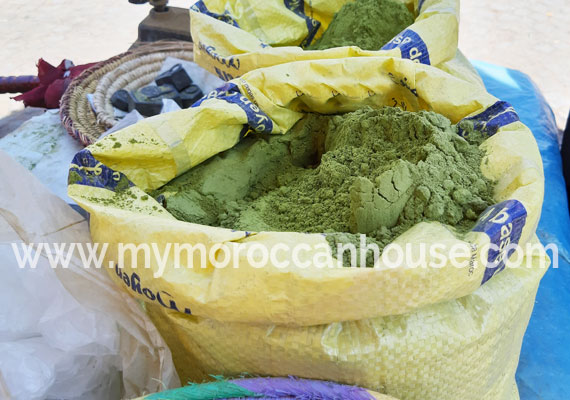 Step 2: Prepare and Heat Your Bathroom or Shower and Get It Steamy
The second important step of making a hammam at home is preparing the bath as it should be very hot and steam should be created in the bathroom.
I recommend running a hot water bath to get as much steam as possible so that the body would relax and the skin pores would open. So, let your hot water flow for 3 minutes until you obtain a steamy bathroom.
If you don't have a bathtub, you can also do it in a shower the result would be the same. The hammam at home is a real moment of well-being for the body and mind.
You can also opt for a few drops of essential oil of your choice that you may want to incorporate. I would prefer a few drops of orange blossom or Moroccan rose essential oil to make my hammam more relaxing, comforting and enjoyable.
Step 3: Soften Your Skin with Moroccan Black Soap
In this step, you need to cover your entire body except for the face, hair, and private parts with the equivalent of a tablespoon of black soap.
get under the shower and let the warm water flow over your body. Then, apply the black soap on your whole body by performing a gentle circular massage from the bottom to the top of the body.
Moroccan black soap is ultra-nourishing for the skin: it softens and purifies it. Black soap is an essential ingredient for the Moroccan hammam. This beauty product is a dark creamy paste composed of olive peels and ground herbs. Black soap foams when in contact with water and hence prepare the skin for the deep exfoliation step.
Moroccan black soap is suitable for all skin types: be it dry, oily, or a combination of the two, and even sensitive skin. The layer of dead cells softens, detaches, and leaves skin very soft.
Moroccan women prepare different beauty recipes with black soap. There is black soap with Argan oil and orange blossom essential oil. This exceptional combination allows effective and gentle exfoliation of the skin.
There are also a few other recipes of black soap with natural dried herbs you can make yourself at home. I will share with you all these beauty secrets that the women of Marrakech make to fully enjoy their hammams.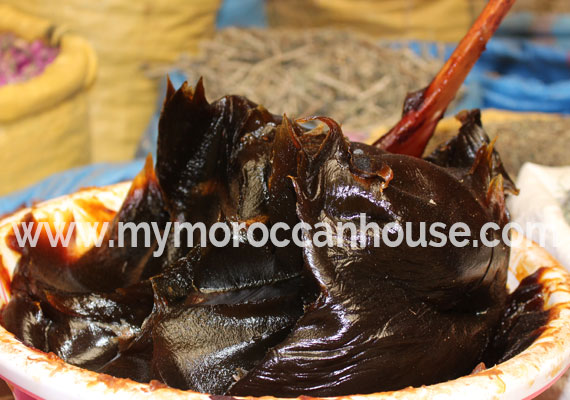 Step 4: Clean Your Hair and Apply a Hair Conditioner of Your Choice
This is the time you clean your hair from the herbs and oil treatment. Use a nice and gentle shampoo and clean your scalp and hair. afterward, simply apply your conditioner. The time you are washing your hair, you allow black soap to penetrate and soften your skin.
Some women would prefer applying Moroccan ghassoul before cleaning it with shampoo. This is optional, and you can do without it.
Step 5: Exfoliate Your Body with The Moroccan Kessal Glove
The black soap has penetrated and prepared your skin for exfoliation time. Dead skin should be removed so we need a Moroccan Kessal Glove.
In fact, I don't know why some people call it Kessa, while its proper name is Kessal, at least here in Marrakech. Anyway, we use the Kessal glove to mainly scrub and remove the dead skin cells.
We use the Kessal glove to exfoliate by making gentle circular movements. try to press the glove on your skin gently when going down and a little bit hard when going up.
Rinse again. It is important to know that you should never rub yourself with a glove if the black soap has not been properly removed. Also, remember that Moroccan kessal is a little bit harsh or rough so scrub your skin gently.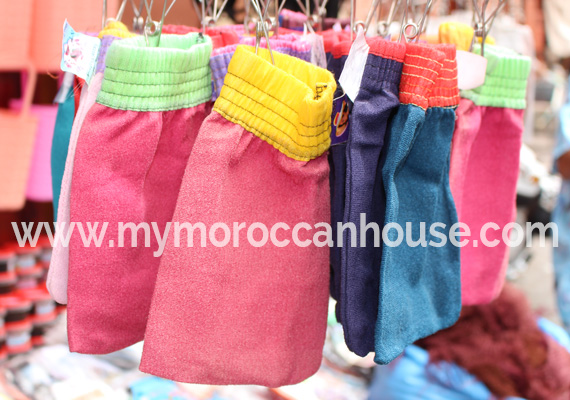 Step 6: Apply a Ghassoul Mask to Your Body
Moroccan Rhassoul is a volcanic clay mined in the Middle Atlas region of Morocco. It is used to prepare mild and purifying paste shampoos.
Moroccan ghassoul is an important ingredient we use in Hammam as it is rich with minerals.
Moroccan ghassoul is recognized for these extraordinary health properties:
Scrubbing masks for skin with imperfections
Cleansing lotions for oily and sensitive skin
rich in iron, magnesium, and potassium
Rhassoul comes in various forms as a powder form, solid, or paste, You might also find it as an essential ingredient in some beauty masks, shower gels, soaps, creams, gels, and lotions.
Ghassoul has strong absorption properties allowing it to effectively eliminate grease and impurities and make it famous as the "earth that washes".
The only known ghassoul clay in the world is located in Morocco, in the Moulouya valley 200 km from Fez on the edge of the Middle Atlas.
In Morocco, recipes for preparing and using Rhassoul are passed down from mother to daughter. My mother always makes her own ghassoul beauty paste with fragrant dried herbs and uses it in hammams.
After the exfoliation period, spread the ghassoul paste smoothly on your body. Note that you should avoid private parts. To prepare the paste, mix some ghassoul powder (the equivalent of a tablespoon), with lukewarm water or rose water.
Leave to rest for 10 to 15 minutes. then rinse the body with lukewarm water. After this, you will notice that your skin is now clean and so smooth.
Step 7: Rinse Your Whole Body and Hydrate It with Vegetable Oil
To finish your Moroccan hammam, make sure you rinse and clean your whole body and hair. After, you may want to perform an argan oil massage on your dry skin. Thanks to its moisturizing properties, fat acids, and vitamin E, it will deeply nourish the epidermis, relax the muscles and soften the skin.
Moroccan hammam is a real experience of well-being. As you have discovered, It's a routine that you can easily do at home once every 10 days. Hammam is suitable for the majority of people, so all you have to do is include it in your beauty and well-being routine.