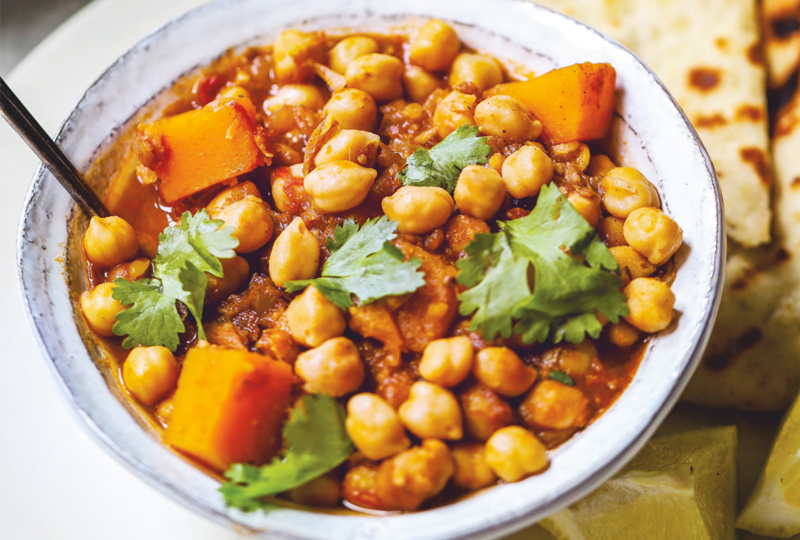 Chickpea and Butternut Squash Curry
Serves 6
This dish is a simplistic version of the Indian chole masala that is
very famous.
Ingredients:

2 cups dried chickpeas
6 cups water, divided
3 teaspoons kosher salt, divided
4 to 5 tablespoons olive oil or vegetable oil
1½ cups small diced red onion
1½ teaspoons cumin seeds
3 to 4 cloves garlic, minced
2 teaspoons grated fresh ginger
3 to 4 cardamom pods, crushed with a mortar and pestle
2 medium tomatoes, diced
2 tablespoons tomato paste
2 teaspoons ground coriander
2 teaspoons garammasala
1 teaspoon ground cumin
2 cups diced butternut squash (½-inch pieces)
2 tablespoons finely chopped fresh cilantro and lemon wedges, to serve
Naan and lemon wedges, to serve
In a large saucepan, combine chickpeas and water to cover by
2 inches. Let stand for at least 8 hours or overnight.
Drain, and return to pan; add 5 cups water and 2 teaspoons
salt. Cover and bring to a boil over high heat. Boil until chickpeas
are softened, about 1 to 2 hours, checking every 15 minutes to see
if chickpeas are soft enough.
Drain water, reserving 2 cups cooking water in a bowl. Place
½ cup cooked chickpeas in a small bowl, and mash using a potato
masher. (This will form the gravy of the curry.)
Heat same saucepan over medium-high heat. Add oil. Add
onion and cumin seeds; sauté until lightly browned, about
5 minutes. Add garlic and ginger; sauté for 1 minute. Add crushed
cardamom, along with pods for fl avor; sauté for 30 seconds. Add
tomatoes and tomato paste; sauté for 2 minutes. Add coriander,
garam masala, ground cumin, and remaining 1 teaspoon salt; sauté
until oil separates from mixture, and mixture looks paste-like,
about 5 minutes. Add butternut squash; sauté for 2 minutes.
Add reserved mashed chickpeas, reserved 2 cups cooking water,
remaining chickpeas, and remaining 1 cup water; cook for 20
minutes, stirring occasionally.
Remove from heat; sprinkle with cilantro. Serve with naan and
lemon wedges.