You have reached this interesting post as you might be among those who have asked the following questions: What is the most popular dish in Morocco? What are some popular dishes in Morocco? What is the Moroccan national dish? What are four favorite Moroccan dishes?
Morocco has an ancestral culinary heritage, renowned throughout the world. On the menu: a variety of original flavors and a subtle scent of spices. A sweet and savory mix, simmered dishes, delicious puff pastries… this gourmet guide will help you order with your eyes closed. No worries, the dishes are all tastier than each other, you can't go wrong.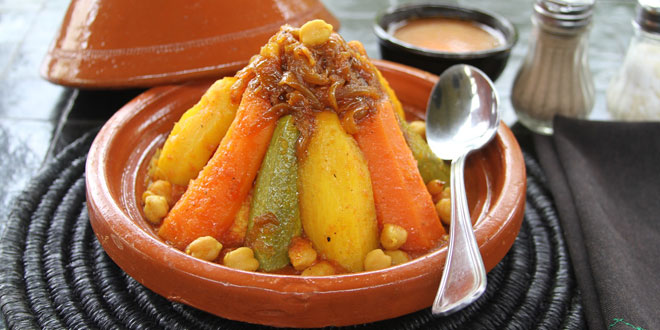 Couscous is probably the most popular dish with the tagine, it is in any case the one that comes first to mind when we talk about Moroccan gastronomy.
Traditionally served on Friday noon, after the dhuhr prayer , it is eaten today indifferently every day of the week. Of Berber origin, the traditional version consists of beef and mutton, sometimes chicken, a multitude of vegetables and legumes (courgettes, turnips, beans, lentils, peas) and of course, wheat semolina. Moroccans taste it straight from the dish, or serve it on individual plates.
What Are Some Popular Dishes in Morocco?
Couscous
Couscous is the emblematic dish of the Maghreb and each country has its own recipes. The base always remains the same: steamed wheat semolina, a sun-drenched vegetable stew, legumes, as well as meat (beef and/or mutton). A complete dish! Traditionally, couscous is prepared on Fridays for lunch, but it is served daily in the majority of restaurants. In Morocco, this popular culinary creation is offered in several versions : vegetarian, with chicken, with fish or even sweet, with raisins and caramelized onions. To do like the locals, enjoy your couscous straight from the dish.
Tagine
Tagine is a typical Moroccan dish whose origins are also Berber. It is also said that the best tajines are still savored today in Berber territory! It is a kind of stew stewed in an earthenware dish topped with a conical lid. There are an infinite number of tagine recipes, each tastier than the next: Chicken tagine with vegetables, saffron or prunes, vegetable tagines with chickpeas, sardine tagines, sheep tagines with onions and chickpeas etc… Almost a recipe different for every day of the year.
Pastilla
Witness to the Andalusian influence in Moroccan gastronomy, the pastilla offers a unique culinary experience. The classic recipe originates from the city of Fez . It harmoniously combines pigeon, onions and almonds inside a pastry sheet. This is sprinkled with icing sugar and cinnamon. During your stay in Morocco, you can also taste variations with chicken, fish, seafood or meat. This specialty is served in restaurants, but also in bakeries. It is an ideal snack if you are a little hungry. Another gourmet variant, the johara is a sweet pastilla offered as a dessert.The brick sheets are filled with a milk cream flavored with orange blossom, almonds and honey. A pure delight!
Tanjia
Tanjia is a typical dish to Marrakesh, to go there without tasting this emblematic dish would be heresy. Two stories are told about its origin. The most popular is that it was created by workers who, not having time to go home to eat, took all the ingredients they found, meats, spices, vegetables, put them in a jar that they then left it to heat until the next day in the nearby hammam. Today, it is a dish of meat and spices cooked for long hours in a terracotta jar and served in many Marrakchi restaurants.
Mechoui
A meat-based dish, mechoui refers more to a method of cooking than a particular recipe. Of Arab origin, it is a widespread dish, served mainly on the occasion of weddings or special occasions. The particularity of Moroccan mechoui is that the lamb or mutton is cooked, not on a spit, but stewed, in an earthen oven, for long hours. Pieces are then detached by hand, and distinguished guests are traditionally served first.
The Harira
It is a traditional Moroccan soup with questionable nutritional properties, Moroccans generally start with this soup to break the Ramadan fast. It consists of tomatoes, onions, meat, pulses. It is served with hard-boiled eggs, pancakes with honey or Moroccan pastries.
Salads
During a traditional Moroccan meal, many salads are served before or during the meal, hot or cold. Whether simple or complex, they all bring a touch of freshness and allow Moroccans to eat a lot of vegetables. Tomatoes with cucumbers, carrots with cumin, eggplant zaalouk, zucchini with hazelnuts, mushrooms with celery, lentils with orange… once again, the variations are endless.
What Is so Special About Morocco? Reasons Why You Should Visit Morocco
Morocco is a land of glamorous and vivid contrasts. The gateway to two continents, it is a country of breathtaking landscapes, rich in history and heady with magnific scents and spectacular sights.
While the countryside is home to old traditions and diverse peoples, the ever-growing urban centers boast incredible new architecture together with the old, and activities to suit all modern tastes.
Morocco's diverse geography, multicultural atmosphere, and rich history make it a mesmerizing country.
Its towns offer a striking contrast of ancient kasbahs, mosques and souks and modern architecture, with a
mix of Berber, Arab and African peoples.
In the crowded ancient medinas, young men in designer jeans haggle over cell phones alongside traditionally dressed women shopping for housewares.
In the fertile countryside, a farmer riding on a goat is as common a sight as a television satellite perched on a mud-brick roof.
Moroccan culture is extremely rich and difficult to pigeonhole. Moroccan landscape includes beaches, mountains, lakes, forests, and deserts.
Morocco is a unique blend of Arab, African, and European ways of life, and the Moroccans wouldn't have it any other way.
Moroccan cuisine is rich and varied, owing to a variety of cultural influences. Meat is well-spiced and lean, vegetables are fresh and abundant, and everything is permeated with spices.
Moroccan cooking is quite labor-intensive and dishes are pleasingly presented as well as meticulously prepared.
Beef, lamb, fish, and chicken are all popular and used in a variety of dishes. Pigeon and turkey are also available, and the seafood in the coastal cities is not to be missed.
Meat is prepared according to Islamic halal regulations.
Rice, semolina wheat, and barley grains are used for a variety of dishes. A wide range of spices is used, including cumin, saffron, paprika, ginger, cinnamon, red and black pepper, and a special mixture called ras al-hanout is widely used in Moroccan cuisine.
A typical Moroccan meal starts with something fresh or cooked salads, olives and pickled vegetables and bread, and sometimes a cold beverage. The main course is then brought out, usually in a large pot, or tajine.
Moroccans will either eat from the main dish with their hands or using spoons, or serve food on to individual dishes.
After the main course is through and plates are removed, various fruits are arranged on the table, and mint tea is served, sometimes with Moroccan cookies.