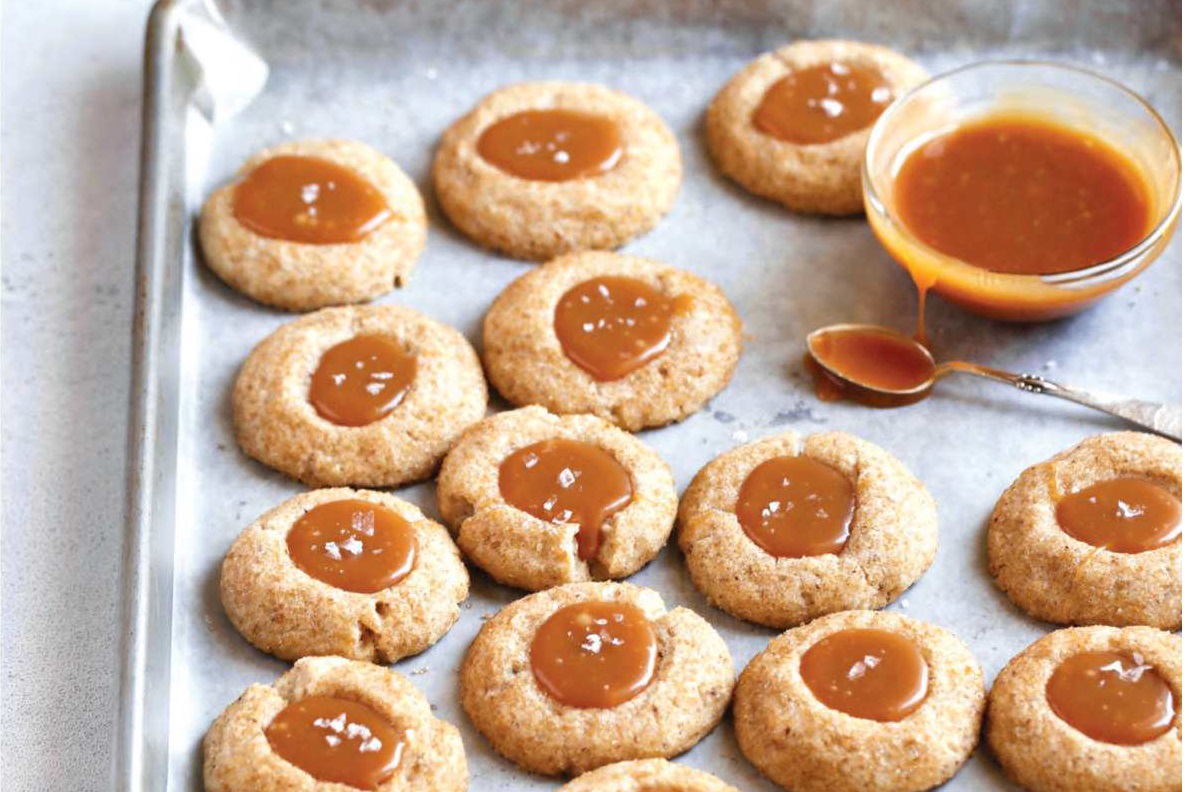 Easy Cookie Recipes : Salted Caramel Thumbprint Cookies recipe "makes 20"
These cookies are holiday cookie bliss.
Ingredients:
½ cup (57 grams) chopped toasted pecans
⅔ cup (133 grams) granulated sugar
¾ cup (170 grams) unsalted butter, softened
2 tablespoons (30 grams) bourbon
½ teaspoon (2 grams) vanilla extract
⅛ teaspoon kosher salt
1¾ cups (219 grams) all-purpose flour
¼ cup (50 grams) turbinado sugar
Salted Caramel Sauce (recipe follows)
Garnish: flaked sea salt
Method:
1. In the work bowl of a food processor, place pecans and granulated sugar; process until combined.
2. In the bowl of a stand mixer fi tted with the paddle attachment, beat pecan sugar and butter at medium speed until fluf y, 2 to 3 minutes, stopping to scrape sides of bowl. With mixer on medium-low speed, add bourbon, vanilla, and salt, beating until combined. With mixer on low speed, add flour, beating until combined and dough starts to come together. Turn out dough, and shape into a disk. Wrap tightly in plastic wrap, and refrigerate until fi rm, about 2 hours.
3. Preheat oven to 350°F (180°C). Line 2 rimmed baking sheets with parchment paper.
4. Place turbinado sugar in a shallow bowl. Shape dough into 1¼-inch balls, and roll in sugar to coat. Place on prepared pans. Freeze for 15 minutes. Using your thumb or the back of a spoon, gently make an indentation in center of each ball.
5. Bake until lightly golden and tops and edges are set, 14 to 16 minutes, rotating pans after 8 minutes of baking. Remove from oven, and press down centers again. Let cool on pans for 10 minutes. Remove from pans, and let cool completely on wire racks.
6. Pipe or spoon about 1 teaspoon Salted Caramel Sauce in center of each cookie. Garnish with flaked salt, if desired.
SALTED CARAMEL SAUCE
Makes about 1 cup
1 cup (200 grams) granulated sugar
¼ cup (57 grams) unsalted butter, softened and cubed
½ cup (120 grams) heavy whipping cream, room temperature
½ teaspoon (2 grams) vanilla extract
¼ teaspoon kosher salt
1. In a medium heavy-bottomed saucepan, heat sugar over medium heat, stirring constantly with a heat-resistant spatula. Cook until sugar forms clumps and melts into a light amber-colored liquid, 4 to 5 minutes.
2. Once sugar is completely melted, carefully add butter, a few pieces at a time, whisking constantly until fully incorporated.
3. Slowly drizzle in cream, whisking constantly. Let mixture boil for 1 minute, then remove from heat, and pour into a glass bowl or measuring cup. Stir in vanilla and salt. Let caramel cool completely before using, about 2 hours. If caramel seems too runny once fully cooled, refrigerate for 15 to 30 minutes before fi lling cookies.
Note: Salted Caramel Sauce can be made in advance and refrigerated for up to 2 weeks in an airtight container. Warm briefly before using.
You Might Also Like : Best Holiday Cookies : 1 of the Best Vanilla cookies recipe